Monday, July 16, 2018, Peachtree Corners, GA: Atlanta Tech Park will proudly host EthAtlanta for its hackathon on Friday September 21, to Sunday, September 23, 2018.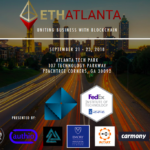 The hackathon is open to all blockchain enthusiasts and web developers.
Participants will work in teams over a 36-hour period to create a blockchain enterprise idea from scratch then present their final product(s) to a panel of expert judges on Sunday, September 23. Prizes will be awarded to the winners of the competition.
Blockchain beginners and experts, technology experts, designers, and more are all invited to attend and participate in this special event to learn new and valuable insights about blockchain technology and make meaningful industry connections.
Visit www.ethatl.com now to participate in the hackathon or register to attend.
ABOUT US: Atlanta Tech Park is a technology incubator in Peachtree Corners, GA. The facility features a video podcasting studio, hot desks, private offices, an events space, and a 100-person auditorium. Membership and insider info can be found on www.atlantatechpark.com. Follow us on Twitter at @107ATP and on Instagram at @atlantatechpark for the latest news and updates about what's happening at ATP.
ABOUT EthAtlanta: EthAtlanta's mission is to unite business leaders with senior hack teams to explore use-cases, network, and create working software for the media and entertainment, supply chain and logistics, healthcare, payroll, and automotive industries. Learn more at www.ethatl.com.