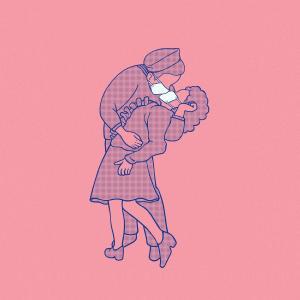 When we decided to host our inaugural Cyber HealthTech Conference and Challenge in April 2020, we had no idea that a global pandemic would rock the core of medical institutions around the world and right here at home. However, things happen, and as people our ability to adapt has enabled us to survive and thrive for centuries. That being said, the scope of our event has changed slightly.
For starters, the conference has been rescheduled to July 2020. The theme is still "Disrupt or Be Disrupted." That means highlighting ATP alumni companies such as ControlRad, which uses revolutionary technology to reduce radiation exposure to patients and doctors during FGPs, and AffirmHealth, which has helped curbed the opioid dependency through web platforms. Now, the conference also entails discussing all of that in addition to the disruptor that is coronavirus. More specifically, we'll be talking about innovative ways that medical and technology experts have come up with ways to inform and treat the public during this pandemic. Here are some examples we've seen that are worthy of sharing:
The first and most notable use of HealthTech in response to the COVID-19 outbreak has been the reporting and presentation of the data pertaining to the number of cases, locations, and more. The Johns Hopkins University Coronavirus Resource Center tracker is an interactive map updated with new information daily. It shows the number of total confirmed cases, deaths, and recoveries in real time. The map can be viewed by cumulative confirmed cases or active cases and provides a breakdown of cases by specific countries and regions. Other features on the map can show you different views, filter for different variants, and show a log of how the virus has grown in its spread over time. While it may be scary to look at, being informed allows healthcare workers and government officials to make better decisions of what actions need to be taken to prevent the pandemic from becoming a larger problem.
Another notable trend in response to the pandemic has been the rise of TeleHealth communications. Although it may seem as if getting tested for COVID-19 has been easier for the ultrarich or megafamous, the emergence of TeleHealth has become one way to make healthcare more accessible for everyone. Defined as using telecommunications to treat and diagnose patients virtually or digitally, TeleHealth enables healthcare workers to physically distance themselves from those showing symptoms of an illness (thus preventing the spread), be more efficient with their time, and also work with patients across state lines, which has been temporarily allowed in response to the coronavirus pandemic.
Healthcare professionals and the American public are taking to it, too. The State of Georgia has launched a COVID-19 hotline where residents can call (844-442-2681) and be consulted over the phone if they begin to feel symptoms associated with the coronavirus.
TeleHealth is currently free, even for the uninsured. Numbers for TeleHealth usage are drastically up across the board, and as more cases arise, the need for TeleHealth and the supporting infrastructure will become greater. Case in point: The global TeleHealth market is expected to be worth $55.6 billion (USD) by 2025, according to a forecast published by MarketsandMarkets. It is currently worth $25.4 billion, the same report said.
A trend gaining popularity in technology over the last few years has been 3-D printing. Praised for its ability to create sturdy prototypes and products cost effectively, the focus of 3-D printing products has become manufacturing medical supplies to meet anticipated shortages of PPE (personal protective equipment) for medical professionals. High-end medical equipment such as ventilators and test kits are harder to mass produce with short notice, but thanks to 3-D printing (and old-fashioned sewing), serviceable protective facemasks are being made and delivered to local healthcare providers everywhere. In just one example of this, we see how a friend of The Park is doing her part with a 3-D printer:
Unfortunately, despite everyone in the world being in need of reassurance and a helping hand right now, there are cybercriminals who see an opportunity to capitalize on the fears of the coronavirus pandemic as a big payday for themselves.
Per our Cyber HealthTech Conference and Challenge partners Adams and Reese:
"The U.S. Department of Homeland Security's Cyber and Infrastructure Security Agency (CISA) has seen an uptick in cyber scams in the wake of the coronavirus outbreak. … If something is considered a medical device, it is also regulated by the Food and Drug Administration (FDA), which has issued broad guidance on the use of wireless technologies and certain mobile medical apps."
Verify all links, professionals, and devices that you consider. Fast Company reports that a "digital coronavirus infection kit" disguised as the Johns Hopkins University map (referenced above) is actually a Java-based malware designed to steal sensitive information (cryptocurrency, passwords, credit card numbers, etc.) and leave devices susceptible to similar attacks. Often, the links are shared as emails with attachments and have "coronavirus" in the subject line, according to Fast Company.
As of this writing, there are 593,291 cases of coronavirus confirmed worldwide, according to Johns Hopkins University. At least 101,657 of those are in the United States, which has the highest number of confirmed cases in the world. (Some good news: 130,915 people have recovered.) What happens between now (March 27, 2020) and the Cyber HealthTech Conference in July 2020 is extremely crucial for the prosperity of humanity and sustainability of the healthcare industry as we know it. If all goes well, there won't be many more cases or fatalities to report, and we'll only have permanent HealthTech disruptions to talk about at the event—in addition to everything else that's going on at The Park.