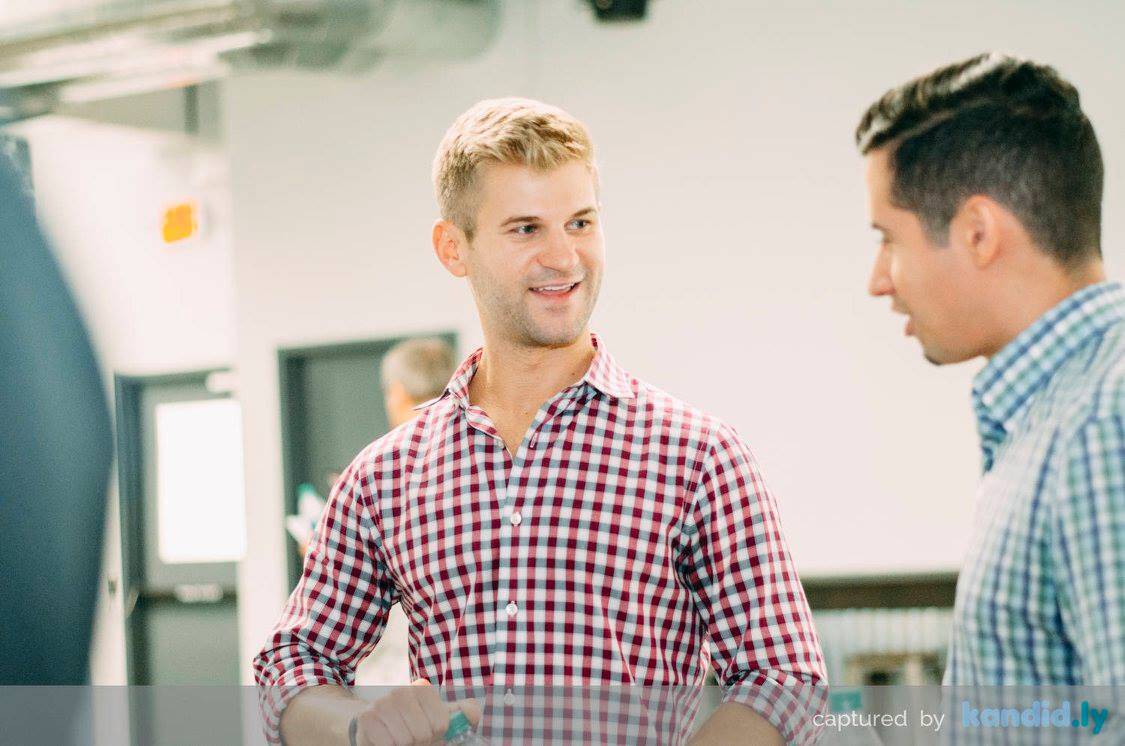 Welcome to our Atlanta Tech Park Success Stories series! This content (blog posts, videos, podcasts, etc.) is a way for us to highlight the members, companies, and more that Atlanta Tech Park a great place to work, network, and even have some fun! The first edition of our Success Stories installment is about AffirmHealth, which was one of the very first companies at Atlanta Tech Park. AffirmHealth uses technology to better facilitate prescriber compliance, which makes the fight against the opioid epidemic significantly more manageable. Our many thanks go to John Cole, AffirmHealth COO and Founder, for taking time out of his schedule to talk about his time at Atlanta Tech Park with us! (Pictured below is John conducting business during the very early days of The Park.)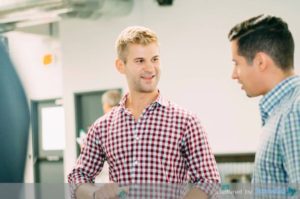 ATP: Why did you choose Atlanta Tech Park?
John: I met Robin and Nashlee at an Atlanta Technology Angels meeting. This is when they were in their early stages, having just remodeled and not formally launched. We chatted before the meeting, and I had been working from home in Atlanta and was looking for a place to set up shop away from my office at home. From our conversation, I felt really comfortable about a) the space and b) what they were doing and Robin's vision for Atlanta Tech Park. I jumped on really early and was one of the first members to start going on a daily basis and was really pleased and happy to do so in the beginning stages of what I think is going to be a powerful community for entrepreneurs in Atlanta.
Where were you as a company when you first arrived at ATP?
We launched our company in April of 2016. We were a year-and-a-half to two years in and had bootstrapped heavily until then. There's a two year process of figuring out what you don't know and really understanding what it is—specifically in healthcare—what you need to build to be able to scale. We were at that point where we knew what we needed to build and were almost there in terms of product development and pilots. We had a product that worked well with small and independent practices and needed to figure out what the best way to scale that technology was. That's where we were when we moved into Atlanta Tech Park.
How did your conversations with Robin change your company's trajectory and impact its growth?
More so than anything, it was a shift in mindset, which is what Robin is so excellent at doing in terms of being able to meet you where you are and provide the insight to take your company to the next level. She has accomplished a lot professionally, so she brings that experience and success to where you are and gets you to think about how to scale your business and also what steps you need to take in order to get there. Her effective communication and ability to deliver a message to an audience is also something I was able to refine and practice myself after several meetings with her.
Can you provide a specific example of something Robin did or said to help you all with that change in mindset?
We had been selling to small and independent practices, with the largest one being 200 doctors or so. When we shifted to enterprise, we thought we were becoming a SaaS product: it will be an iterative rollout based on a new provider (client) per month basis. "Robin painted the picture of what a true enterprise contract is." … You can deliver something that's powerful without taking the iterative approach if you display that your technology is powerful enough. The enterprise contract and getting senior leadership excited about the innovation are enough to land the enterprise deal. From a cashflow standpoint, that helps tremendously. It really just takes that mindset shift to think about.
So essentially Robin taught you to think more like a seasoned executive and showed you what she looks for from that position?
That's exactly right. What's so incredible (about Robin) is she doesn't have a whole lot of healthcare experience. Most of it is on the security side, but basically, every other industry has experienced "tech disruption" that has changed them. Healthcare is the only industry where that hasn't happened (yet). In healthcare, people think the way things have always been done are the way have to continue being done. You almost have to flip that on its end and question if that is always the right way. When you do, people are skeptical, but changing our mindset enabled us to stand up to those challenges and be successful.
The other thing is truly understanding your customer. In healthcare technology it is has often been the case that when building a HealthTech product, the active clinician (or "power user") is not at the table when building the product, so we have been incredibly intentional to make sure that the user of the product is actually helping to customize the solution alongside with us, and we're taking their active feedback as we're building the product. So when you launch the product, for them it's a matter of "we helped build this product, we know how to use it, let's go."
Having an intentional focus on the customer and how they use the product when building the product has been in an invaluable lesson Robin taught us.
In summary…
From the very beginning, it was very clear that Robin was thinking about things differently. She was thinking about building The Park in a way that you would think about building a business in making sure that she was fostering a culture and environment where companies and entrepreneurs can go to thrive. From my entire time there–when they were getting ATP off the ground until when I left [to move back home to Nashville]—it was abundantly clear that was the culture she was creating. When I was there, both Nashlee and Robin were available, and I felt they had both myself and my company's best interest at heart and were willing to help out in any way they could. For a company or an entrepreneur looking to go somewhere where you really have that sense of community and are surrounded by positive, supportive energy, that is what Atlanta Tech Park epitomizes.