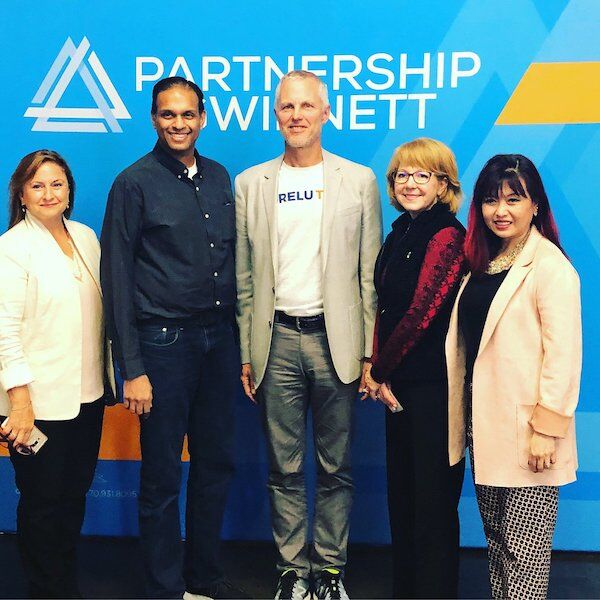 Atlanta Tech Park was proud to host the inaugural North Atlanta Tech Showcase last week on November 1st, 2018.
The event featured 20+ exhibitors showcasing their technologies to investors, influencers, and tech talent. In addition to the showcase, we had a thrilling panel discussion on the future of North Atlanta's tech ecosystem, a keynote address, and a startup pitch competition with a prize for the first and second place.
Richard Cope, the CEO of Peachtree Corners-based NanoLumens, delivered a hugely insightful keynote address.
In it, he shared two books everyone should read to learn more about entrepreneurship and five keys to success.
His five keys to success are as follows:
Have a service or product that somebody else is willing to pay for.

Entrepreneurs find the void and create the demand.

Pivot

Simple changes can yield profound results.

Fog of war

Uncertainties along the way are part of the battle.

Failure

It happens whether you want it to or not. Then what?

A purpose larger than yourself

What good is a product, service, or feeling if you don't have anyone to share it with?
https://twitter.com/PartnershipGw/status/1058086984252616704
The three books Mr. Cope recommended to everyone were:
The Wealth of Nations
Victory of Reason
Prior to keynote was a stellar panel discussion on the Trends, Opportunities, and Challenges of Tech Innovations in North Atlanta.
The four panelists were founders of four tech accelerators in Fulton and Gwinnett counties, including our Founder herself, Robin Bienfait.
The Panelists for the @PartnershipGwin #northatltechshowcase Fireside Chat. #Startups #Atl #technology pic.twitter.com/7f3LFk4rB0

— Atlanta Small Business Network (@MyASBN) November 1, 2018
https://twitter.com/MyASBN/status/1058074489362231296
https://twitter.com/MyASBN/status/1058072845295779843
"You have to make sure the right people are in the room. That determines the success or failure of a lot of #startups" – @sanjay, @PrototypePrime at the @PartnershipGw #NorthATLTechShowcase

— Atlanta Small Business Network (@MyASBN) November 1, 2018
Of course, we couldn't send people home from the first-ever North Atlanta Tech Show without a pitch competition! There were eight presentations up to three minutes each.
Shannon Evanchec of TruePani takes 3 minutes to pitch her company during the #NorthATLTechShowcase Startup Fast Pitch @PartnershipGw pic.twitter.com/fePFgd5Mvc

— Atlanta Small Business Network (@MyASBN) November 1, 2018
In the end, however, only two companies would win the prizes—each package including a small residency at The Park.
Many congratulations to the 1st place winners Aaron Gobin and Bruce Rasa from AgVoice and the 2nd place winner Molly Proffitt from Ker-Chunk Games.
Lastly, on Monday, Atlanta Tech Park hand-selected a handful of winners from our free membership giveaway! These lucky folks put their business cards in our fishbowl for a chance to win a free membership and didn't need to spend any money on a Powerball ticket in order to do so.
Interested in becoming a member but didn't win a membership or have a startup to pitch?
You can still sign up using our holiday special, which nets you three months of membership for half off! Learn more here at holiday.107atp.com now.
—
Atlanta Tech Park thanks the Atlanta Small Business networking for being at NATS and covering all aspects of the event.